DIY Wooden Silhouette Artwork
Hi Classy Clutter readers! I am Carrie from Lovely Etc. and I cannot wait to share my latest project with you all!
At Lovely Etc. I love to share DIY projects that are both beautiful and inexpensive. My very favorite projects are the ones that are personal and meaningful – that truly help our home reflect us as a family. Today's project is the perfect example of that.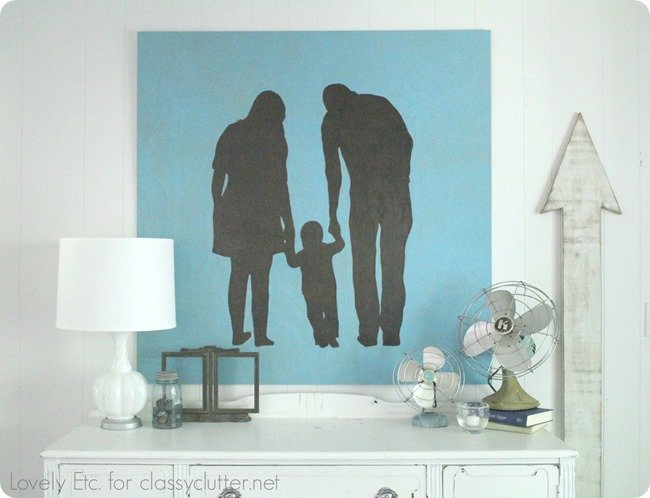 This DIY wooden silhouette is pretty easy to make. It is a bit time-consuming but totally worth it – I mean, look how awesome it looks! Plus I now have a huge, completely personalized piece of art for only $15!
Materials
Plywood – I used a precut 4'x4' piece of plywood but you could use any size
Large photo printout
Pencil
Stain
Paint
Paintbrushes
Clean lint-free cloth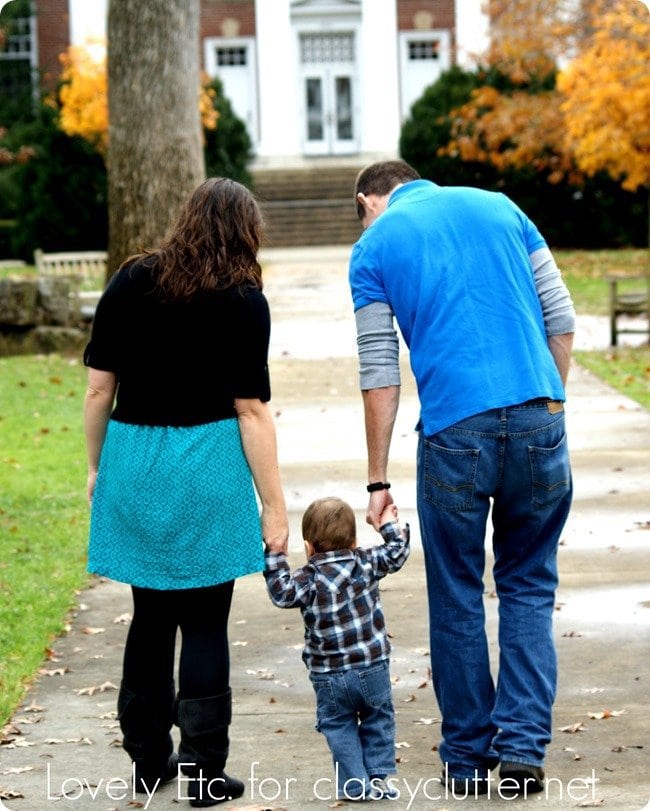 This whole giant piece of art started with a family photo I loved. I knew it would make a great family silhouette! I chose to print my photo on my home printer because I was feeling very impatient. For my 4' x4' sign, I set my printer up to print the photo on 16 sheets of paper or 4 sheets x 4 sheets. Before printing, I cropped out the extra background and changed the photo to black and white so I wouldn't waste my color ink.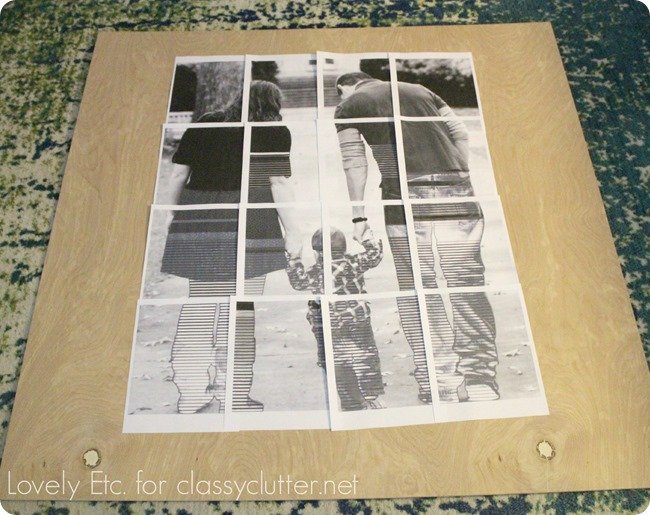 Another option would be to order your photo as an engineer print or a blueprint from a local print shop. This is an inexpensive way to get gigantic black and white photos.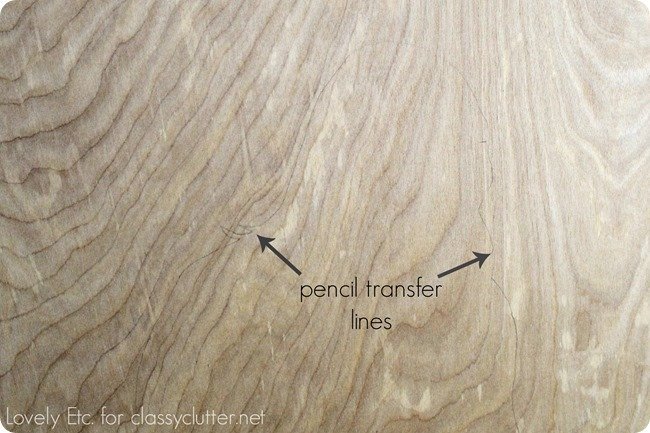 Once I had my giant photo, I used the oldest and simplest transfer method there is – the pencil transfer. Basically, you color the back of your photo with a pencil and then trace the edges. Everywhere you trace will transfer as a pencil line onto the wood. (If you would like more info about this process, you can check out this tutorial.)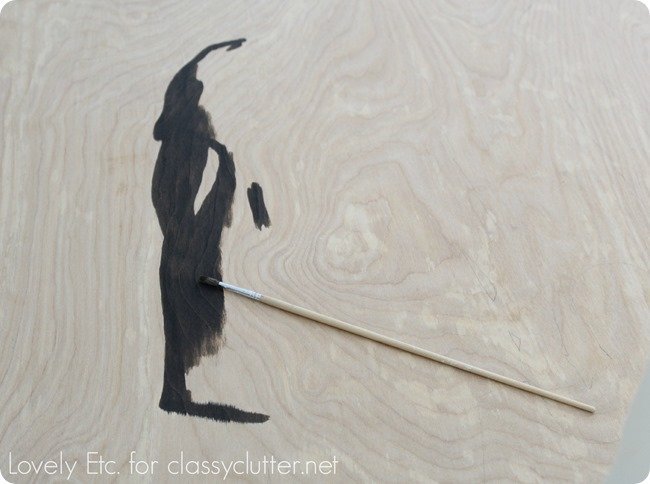 To make the silhouette, I stained inside the pencil drawing. Working in small areas, use a small brush to apply stain around the outline and then fill in with a larger brush. Two coats of stain was all it took to give a nice even finish. (And, yes, in case you are wondering – I definitely took this opportunity to make my own silhouette a smidge skinnier. But that can be our little secret.)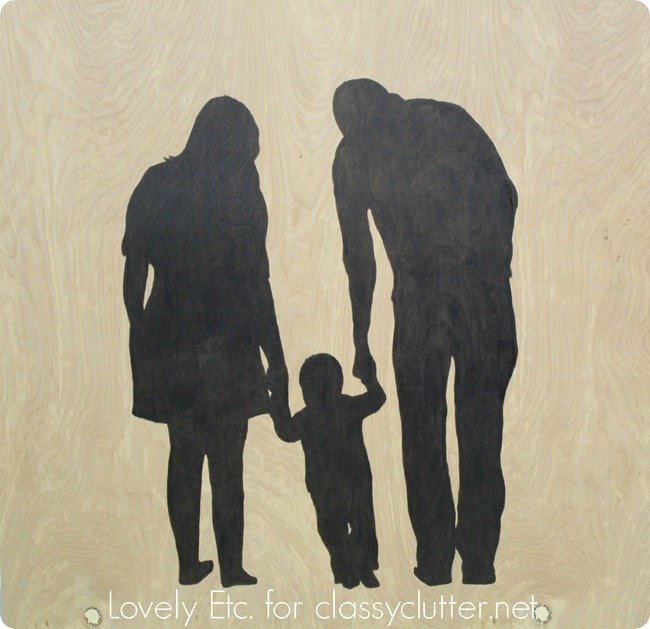 Once my stain had dried, it was time to fill in the background. I knew I definitely wanted a pop of color but I also didn't want to hide the beautiful wood grain with paint. So I chose to use a colorwash. But first I used a scrap piece of plywood to test some different colors and paints.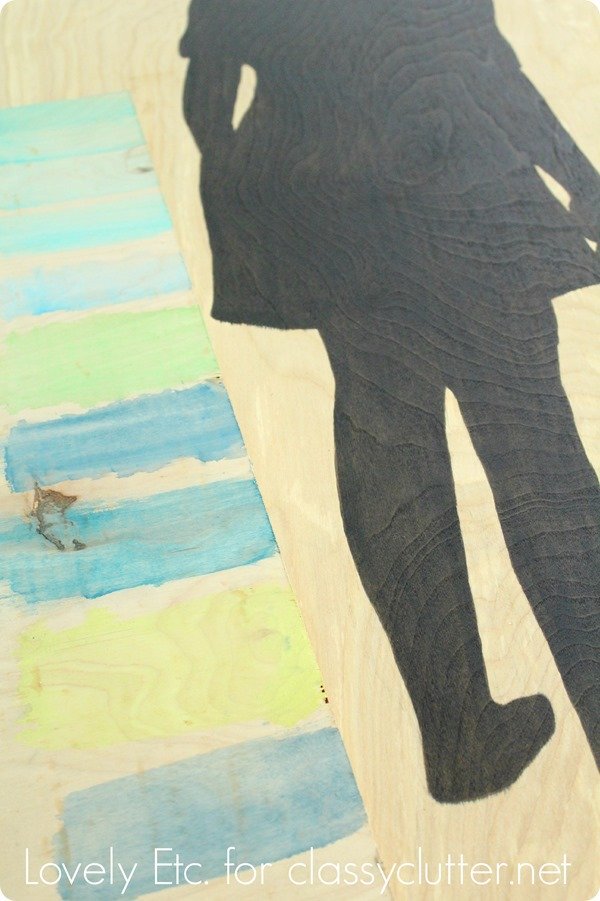 I chose to use a robin's egg blue color and mixed some blue paint with a white glaze and water. Working in small areas, I brushed it on. After the paint had a few seconds to soak in, I used a clean rag to wipe away any excess paint. I ended up needing three coats.
You could also get a similar look with a colored wood stain or simply using watered down paint.
And then it was ready to hang! I love the pop of color it gives to our family room.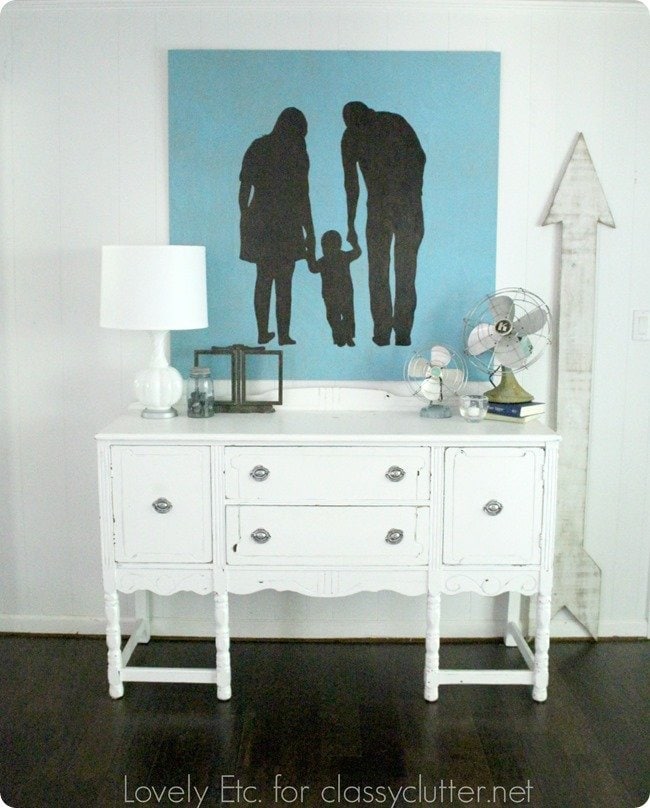 And I love that it looks like a high end art piece but its my family; it's more than just something pretty to hang on the wall. It's a beautiful moment in our family's history that we get to look at and remember every single day.
It looks right at home with the vintage fans I've collected from yard sales and our oversized arrow growth chart.
Anyone have a special family photo that you are thinking will make a great silhouette art piece? I'm already itching to make another – maybe with a white silhouette this time.
Thanks so much for sharing this with us Carrie! Looks amazing! Don't forget to follow Carrie on Pinterest, Facebook, Instagram, Twitter, and Google+