Bake Craft Sew Decorate: Mixed Metals Christmas Mantel
We're excited about Day 2 of our Bake Craft Sew and Decorate Series! This year, we will be sharing Winter, Christmas and Holiday decorating ideas here on Classy Clutter. We will be teaming up with our blogging friends Cindy, Mique, and Leigh Anne! Cindy will be doing sewing ideas on SkiptomyLou, while Mique from Thirty Handmade Days, will be posting craft ideas, and Leigh Anne from Homebased Mom will be posting delicious edible gift recipes. We're super excited about it so come back every day in November for another Holiday decorating idea! Please welcome our friend Adri to share a gorgeous holiday decor idea with us!
Hi sweet Classy Clutter readers! I am Adrianne from Dream Book Design. My hubby and I love to DIY home decor, flip homes in Phoenix, AZ, and share our crazy life along the way. I am so excited to participate in this years Bake, Craft, Sew, and Decorate today. We love to mix things up in our home, especially around the holidays. For Christmas this year, we are wanting to keep it simple but different. One way we are doing this is by mixing metals on our DIY Fireplace Mantel.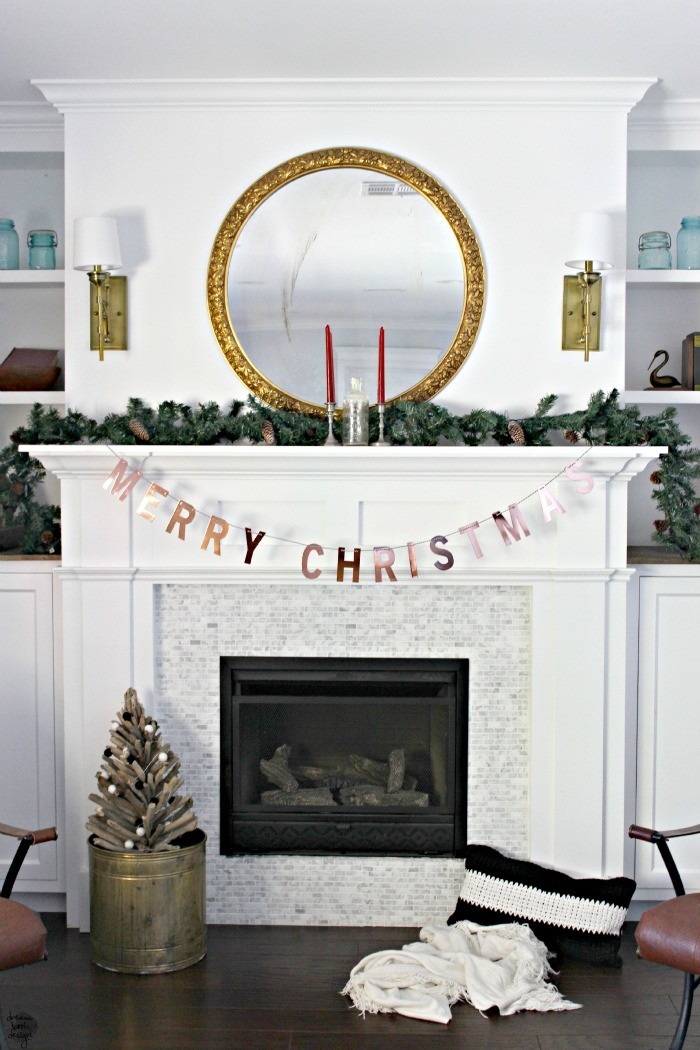 Some people think you can only do one type of metal at a time. Golds all with golds, silver with silver, etc. But I believe that when you mix them together, in the right amounts, you create such a fun effect.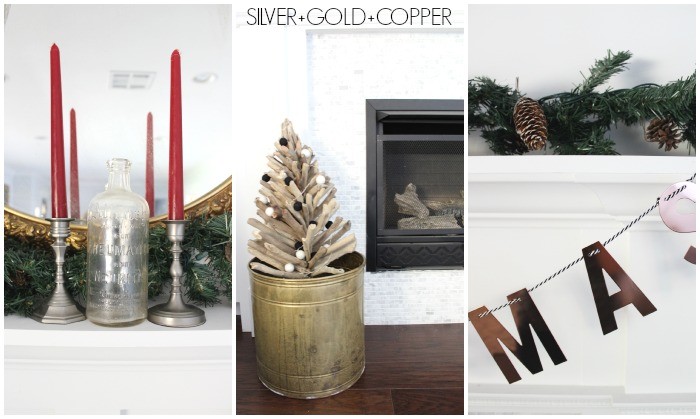 For our fireplace mantel set up I added some traditional decor with the green garland, and then mixed in some vintage silver candlesticks. I love mixing vintage and new, the combo adds so much character. Top that all off with the vintage Woodard chairs, and I am in heaven,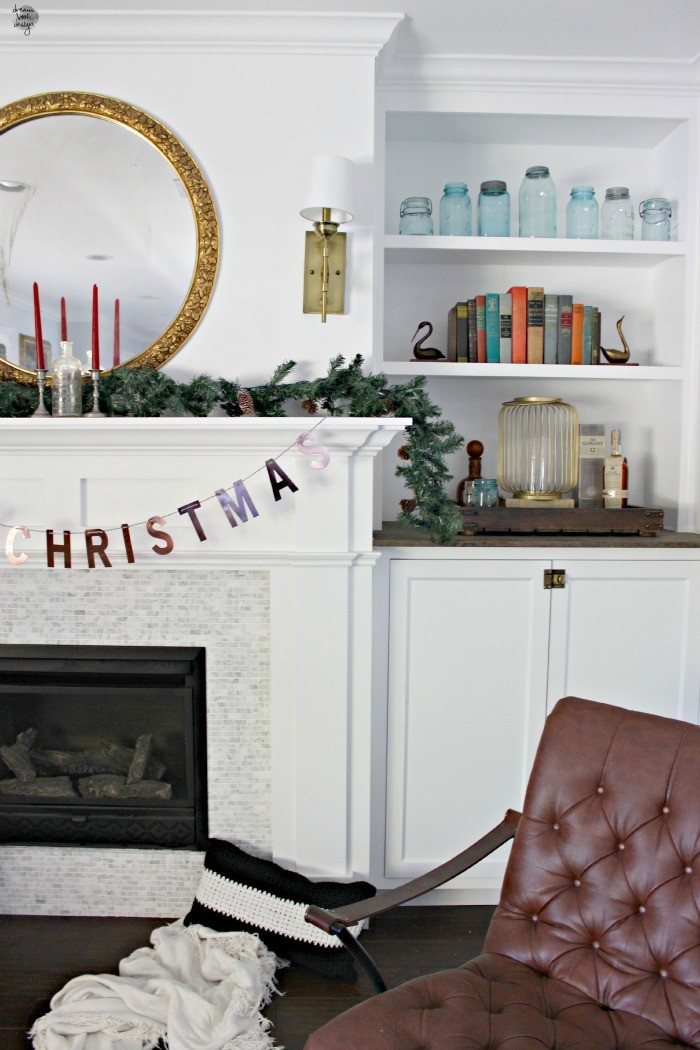 The newest look that I added to our mantel this year is the fun copper Merry Christmas banner from Target. Now don't get me wrong, I love to DIY things. But, when Target makes something this cute, sturdy, and fun…for $12.99, I cannot pass it up! The copper is fairly thick and sturdy, and each letter is tied off individually so they stay in place perfectly. I couldn't have made this for that little, much less the time saved- so I am calling this a huge win!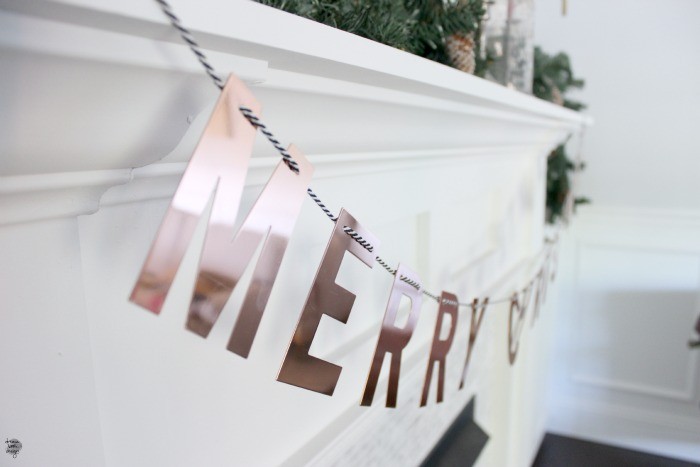 The mirror and sconces provide some gold to this combo, but I wanted to carry it down, so I added an awesome brass bucket I got at Goodwill for $5! The wooden tree has black and white felt balls in it to tie in the black and white pillow. When we tiled that fireplace I envisioned us snuggling around it at Christmas time, and some good decor surrounding it only enhances that!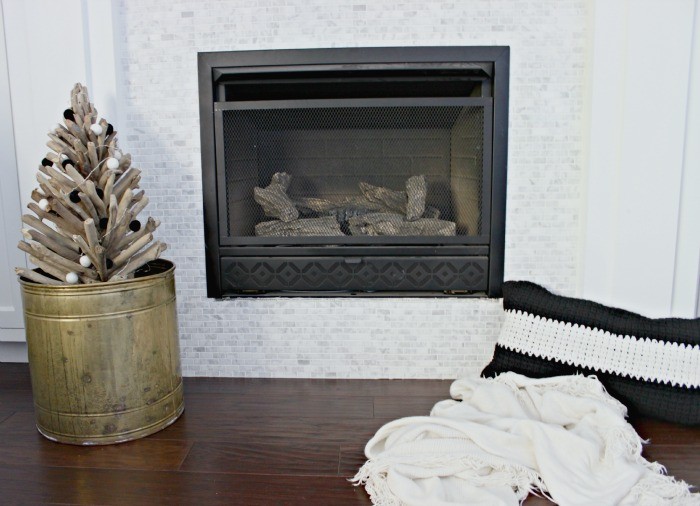 So are you ready for some tips for mixing metals?
-First and foremost, don't be afraid to do it!
-Chose one of the metals to be your main one, and then add in the others. Gold was our main one here!
-Get creative with how you incorporate them. Mirrors, candlesticks, buckets, banners, etc. There are so many small items that you can incorporate in without making it be overwhelming.
-If you feel like you've added too much, step back, take a minute, and re-evaluate.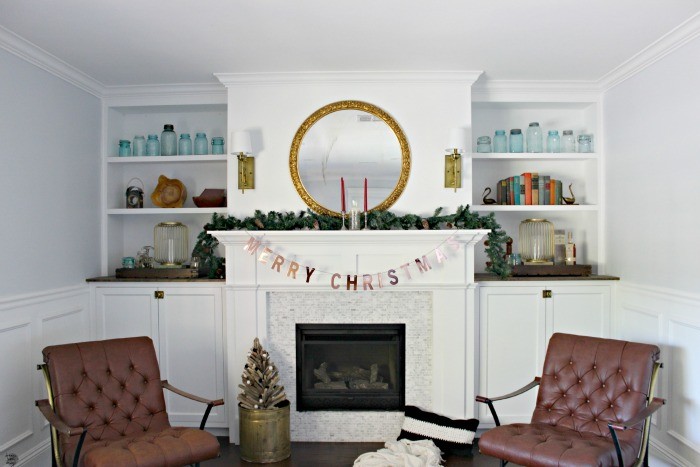 I hope you guys liked our mixed metal Christmas mantel. We loved being here with you today!
Thanks so much for sharing Adri! This is gorgeous! We love mixing metals and can you believe that fireplace mantel?! The husband and wife duo behind Dream Book Design is amazingly talented! Be sure to follow Adri on her blog, Dream Book Design, Facebook, Instagram, and Pinterest.