Bake Craft Sew Decorate: Rustic Elf Parking Pallet Sign
Hi friends! Thanks so much for stopping by today! We are kicking off Day 1 of our Bake Craft Sew and Decorate Series! This year, we will be sharing Winter, Christmas and Holiday decorating ideas here on Classy Clutter. We will be teaming up with our blogging friends Cindy, Mique, and Leigh Anne! Cindy will be doing sewing ideas on SkiptomyLou, while Mique from Thirty Handmade Days, will be posting craft ideas, and Leigh Anne from Homebased Mom will be posting delicious edible gift recipes. We're super excited about it so come back every day in November for another Holiday decorating idea!
Today we have Pam from Over the Big Moon sharing a darling Rustic "Elf Parking" Pallet Sign! So without further adieu, here's Pam!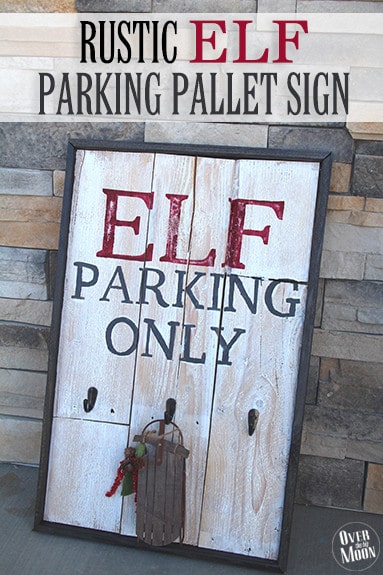 Hey Classy Clutter friends! I am Pam from Over the Big Moon and I am excited to be here today to share this tutorial for a Rustic Elf Parking Pallet Sign! Elf season is near and it's one of my kids most favorite part of the Holiday season! I wanted to incorporate the fun onto the porch, so I created this sign out of an old pallet I had on hand!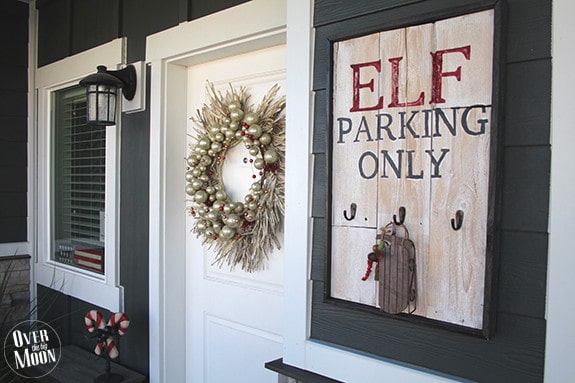 I started by taking the pallet apart. I wanted to give it a pieced look, so I cut a few different sizes of boards to create my columns. Each of the 3 columns are 24″ tall. Feel free to adjust the size to fit the area you want it place it in.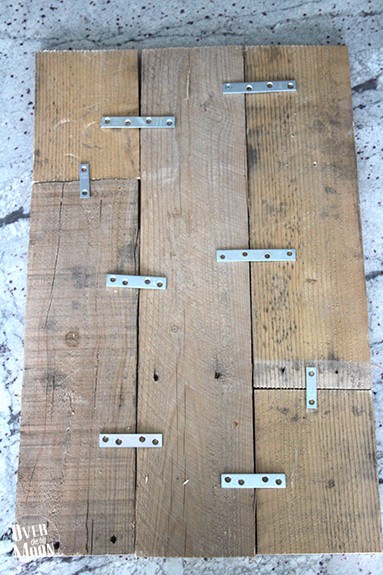 Then I took mending brackets and disbursed them around the different places that I needed to connect. The size of the mending bracket doesn't matter a ton. I just used different ones I had on hand. Keep in mind that the screws that come with the mending brackets may be too long. If you use them they could come through the front of the board. I replaced them with 1/2″ wood screws.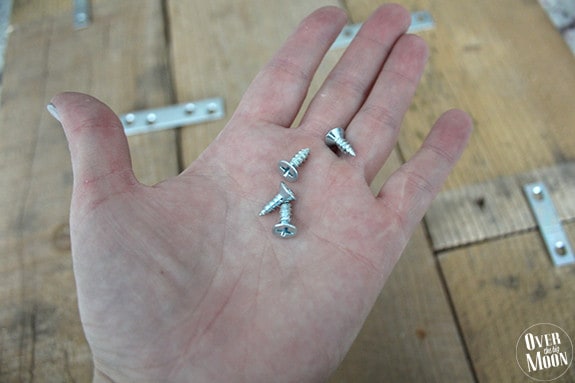 While attaching the mending brackets, my middle pallet board started to crack down the middle. Being that I was going for a really rustic look, I loved the crack. But, it was weakening the strength of the sign. So, I just added a few extra mending brackets over the crack on the backside.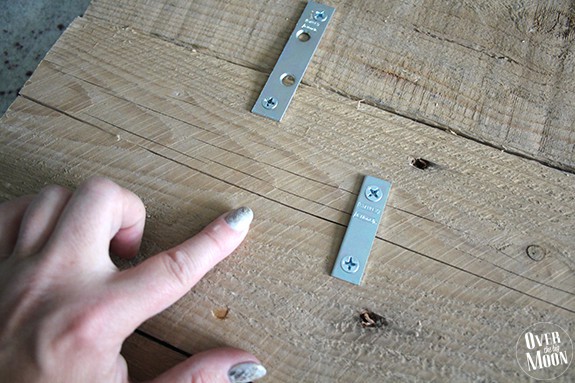 After the 3 columns were secured together, it was time for paint. I chose to give it a whitewashed look. To whitewash, you just rough paint the area you want covered. Then, take a wet rag and wipe it off until you reach the desired look you're going for.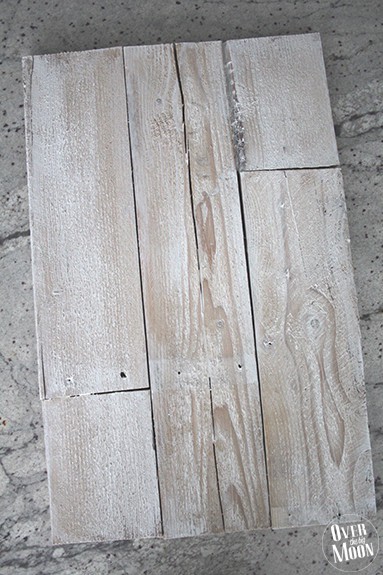 White the board was drying, it was time to get the frame cut and painted too. To create the frame, I used stakes. They're super cheap and the size that I wanted! You could also use 1×2's if you want!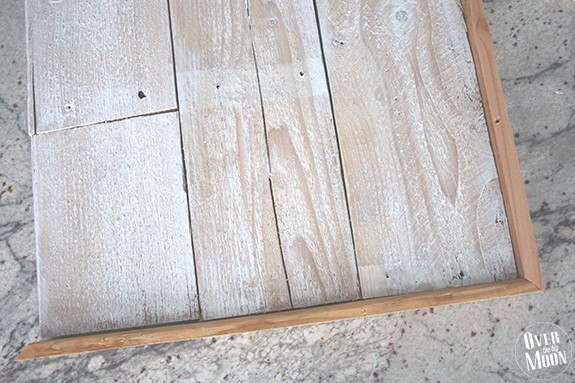 I find it easiest to take a stake longer than the edge that you need to frame and then use a pencil to draw a line at the edge on both sides. Then, take your stake out to your miter saw and cut it at a 45° angle. When you make the cut, you want your stake standing on it's thin side. Not laying flat.
Cutting the frame is super easy, but pay close attention as you make the 2nd cut on each piece. You need to make sure you cut the angel the right way (out, not in). Visualize the cut before you make it! Otherwise, you could end up with two ends angled the same way.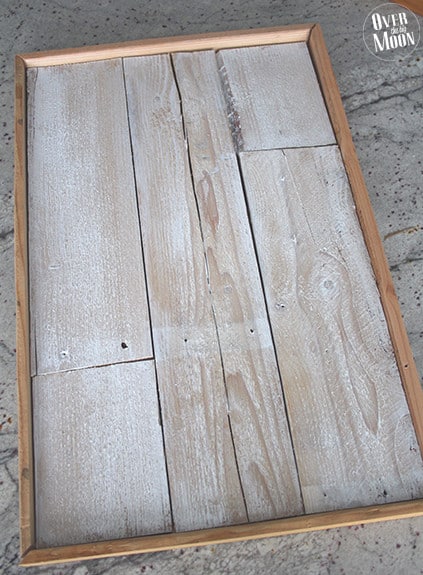 When I was done making the cuts, I took the frame pieces and laid them out around the sign to make sure they all fit together good. I then took my frame pieces out to the garage to spray paint them. I love Rustoleum's Metallic line – so I chose their Oil Rubbed Broze color! I generally spray 2-3 light coats waiting approx 30 minutes between coats.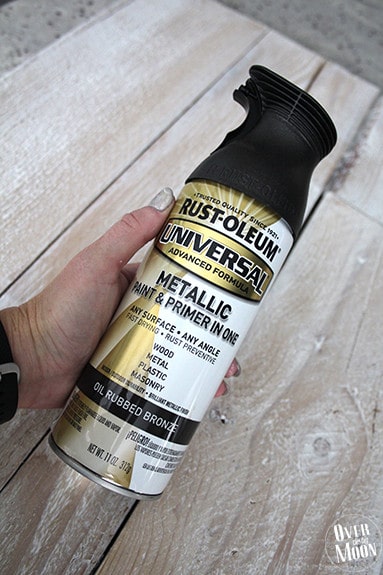 During the time that I was spray painting the frame, I wanted to get started on my lettering. I used my Cricut Explore to cut out the vinyl to create myself a stencil. You could easily just hand draw on the letters too!
Side note: When you use vinyl on a rough wood like this, it doesn't stay in place very good. I didn't do it this time, but I have used spray adhesive on it to help it stick down and it works great.
I wanted to keep the rustic look with the lettering, so I gave it a rough paint. To keep it from bleeding under the stencil I used brush strokes going from outside in on the letter. You just want to make sure that your outer edge is getting a crisp line, to help define the letter shape. Also, make sure you don't have too much paint on your paint brush, because that is what will create the bleeding under the vinyl.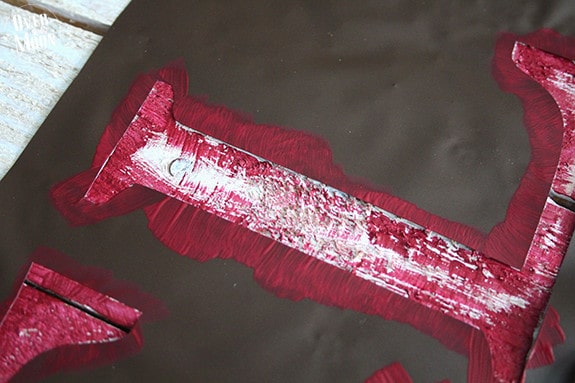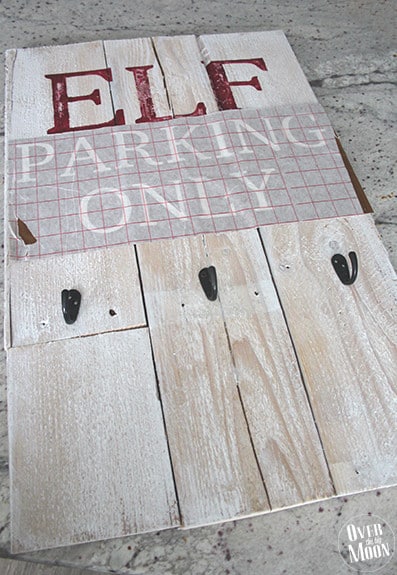 After I got the word Elf painted on the sign, I took my second stencil and laid it in place, so I could make sure I was going to be able to install the hooks and leave enough room under them for our Elf's sled!
Then I went ahead and applied my stencil and painted those letters a dark gray!
After everything was good and dry I attached the frame using my Ryobi Brad Nail Gun! I nailed it approx every 3-4 inches.
And you're done!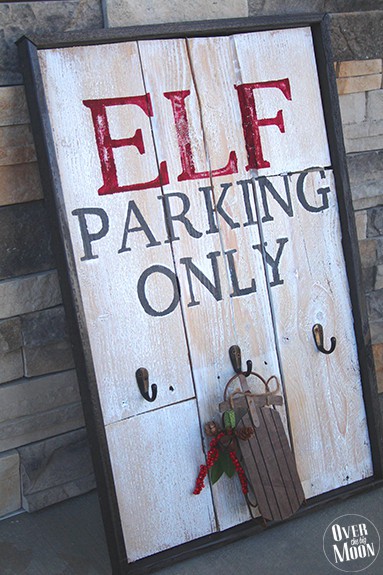 Now it was time to hang the sign! Being that I wanted to hang it on my house, but didn't want to drill into my Hardie Board, I decided to use my favorite Velcro Command Strips (check out my Command Strip Headboard here)!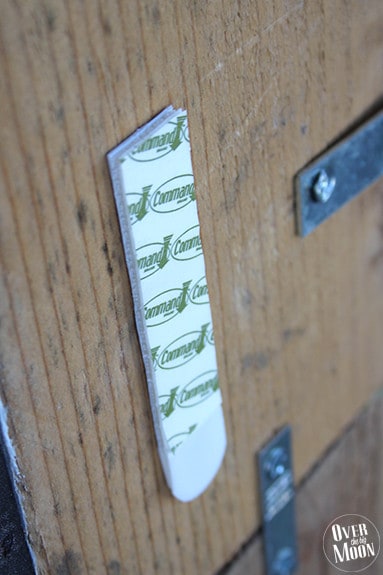 Take two of the velcro command strips and put them together. Wipe any dust/debris off the back of the board and then remove one of the sides backing strip and stick it to the board. I used 4 sets total on the back of my board.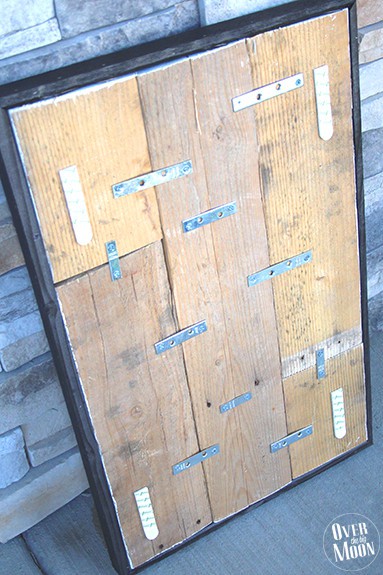 Then clean the surface where you want to stick the board. Once it's dry, remove the backing of the velcro command strips and push it really hard against the hard surface you are sticking it! And, ta-dah!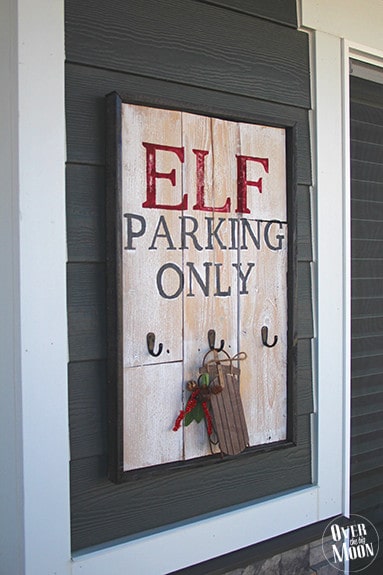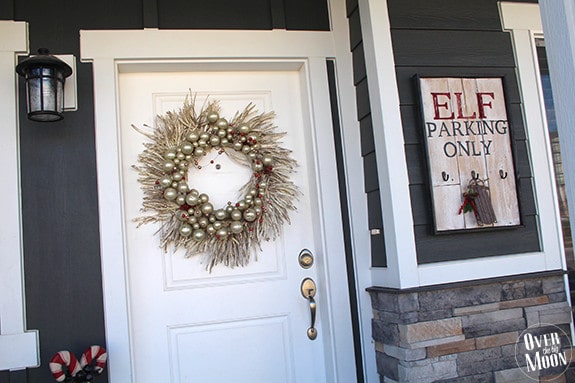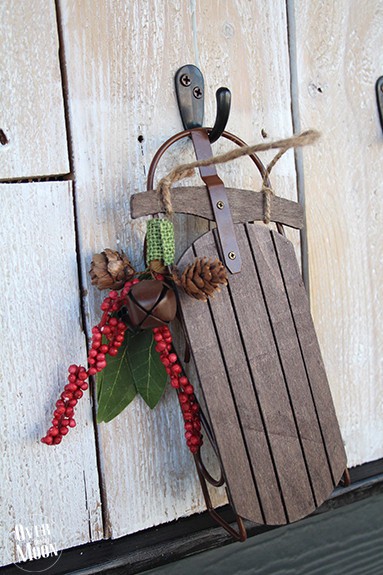 Looking for some help this Elf season? Or just wanting to simplify the job for yourself? Then you'll want to go purchase The Ultimate Christmas Elf Book of Ideas – 25+ Christmas Elf Printables & Ideas Ebook for just $4.99!! It has sooo many cute ideas and printables that you and your family will love!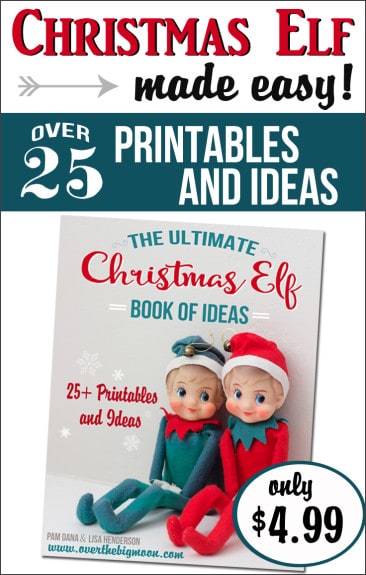 We also have lots of free printables and idea roundup's too! Check them all out HERE!
Thanks so much for sharing Pam! This is so adorable! We love Christmas elves at our house so this will be a hit for sure! Be sure to follow Pam on her blog, Over The Big Moon, Facebook, Instagram, and Pinterest.