Easy Valentine's Day M&M Cookies
These easy Valentine's Day Cookies are packed full of yummy M&M candies and so festive for Valentine's Day!
Hi friends! So glad you stopped by today! Are you getting excited for Valentine's Day? We are!!! We've loved sharing our Valentine's Day projects (and recipes!) with you. If you're popping over for the first time, welcome! We sure hope you stay a while.
So, I'm a mom of 4 little boys, age 6 and under. Yes, I'm a little crazy. Yes, they're a lot crazy. That being said, they are the coolest bunch of little dudes ever and I just love them to pieces. I'm a work at home mom, running 2 businesses from home while caring for my little dudes. My oldest is in Kindergarten and my 2nd goes to Preschool a couple days a week but usually, my house is packed full of crazy little superheroes, dressed up like Jedis, playing Legos. They are all boy and crazy and cool as they come.
The great thing about little boys is that they are all "Momma's Boys". In a good way. 😉  Sometimes these hardcore, rough housing boys surprise me with their tender, mommy-loving hearts. The other day, my 4 year old was just beeeeeegging me to bake cookies with him. I knew he was craving some momma time and craving cookies like always. I told him we would bake some "sometime today" and he would just not let up. Finally he came to me and said "Mom! Are we gonna bake cookies or WHAT!?!"  I dropped everything and decided to devote all of my attention to him. I pre-measured the ingredients and let him put them all in the mixer. We put the balls of dough on the cookie sheet and he chose which one was "his" cookie.
It was a sweet little moment and it made me realize that I need to take more time during the day to unplug, stop working and show the kiddos that I care about their wants and needs, sporadic and unhealthy as baking random cookies may be. 😉 Since the new year, I've put myself on a pretty strict schedule so I can fit everything that needs to be done in my day without ignoring my kids completely. It's helped tremendously and we're all happier, house is cleaner, and I am way less stressed.
Easy Valentine's Day Cookies
(adapted from Sugar Baby Boutique)
Ingredients:
3/4 c. white sugar
3/4 c. brown sugar
2 eggs
1 c. butter flavored shortening (I use the pre-measured Crisco Baking Sticks)
2 cups flour
1 tsp baking soda
1 tsp salt
add 3/4 cup oats
1 tsp vanilla
Instructions:
Preheat oven to 350 degrees. Line a baking sheet with parchment paper or use non-stick spray. With a mixer, combine sugars, eggs and butter flavored shortening until mixed throughly. Now here's a trick, mix the remaining ingredients (flour, baking soda, salt, oats and vanilla) until combined but do not over mix. It makes the cookies SO much yummier. I have no idea why but I swear it works. Gently stir in M&Ms. Next, bake the cookies for 9-10 minutes until the edges are barely brown. Let cool on baking sheet for about 3-4 minutes and transfer to cooling rack.
If you want to make these into a super easy, super cute gift for Valetine's Day, take a sandwich baggie and cut off the zipper.
Place the cookie inside and secure with a ribbon and a tag (if you'd like) It is so simple and inexpensive and is much cuter than a store-bought Valentine. These can be customized to virtually any holiday, season, occasion, etc.
See! Way easy and way cute! Hope you have a Happy Valentine's Day! Don't forget to check out our other Valentine's Day Ideas!
Custom Valentine's Day Fortune Cookies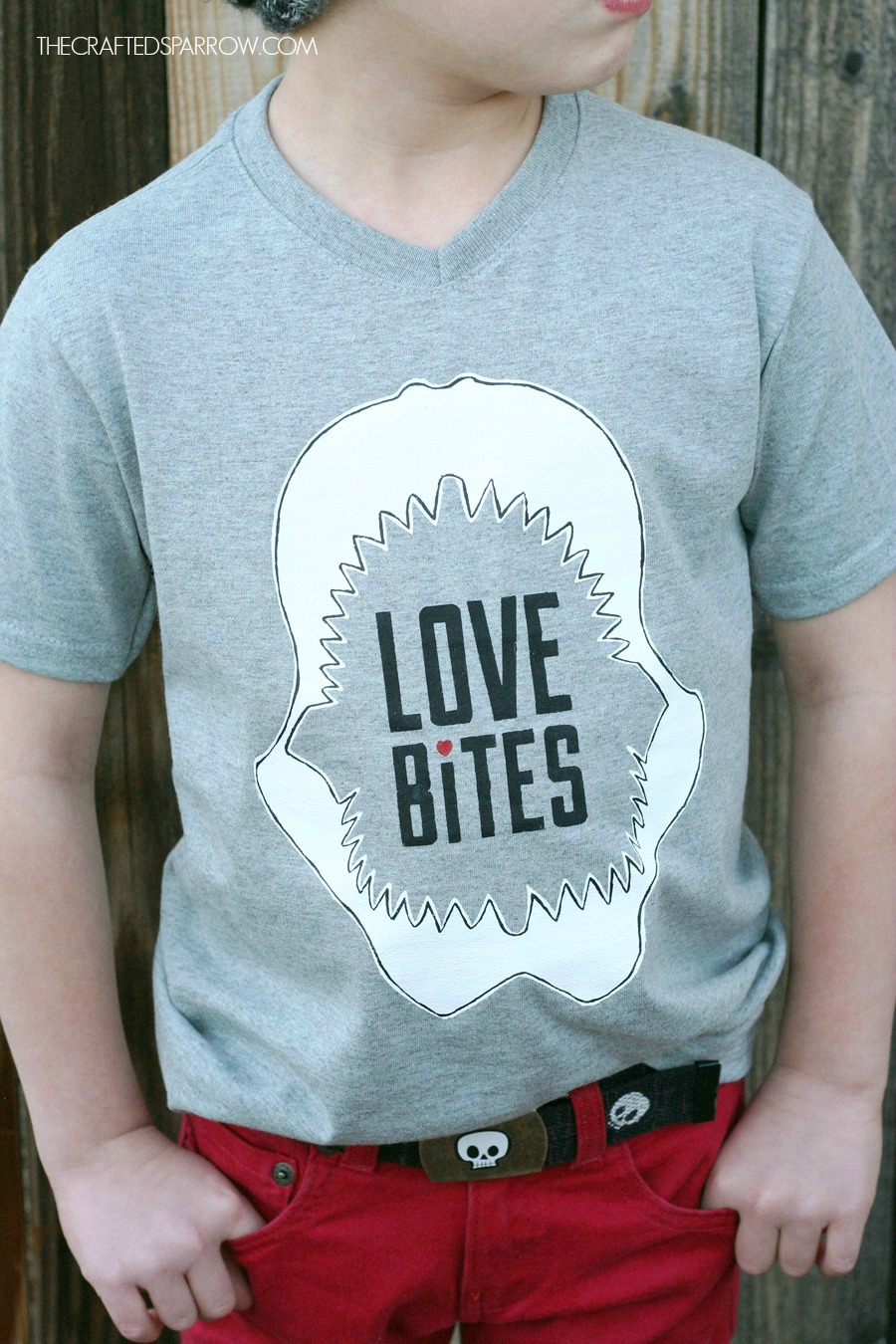 DIY "Love Bites" Boys Valentine's Dad Shirt