Dear Pottery Barn,
I do love you.  Please be more affordable some day.  In the meantime, I will continue to browse your site daily for inspiration on my own DIY projects.
Yours Truly,
Mallory
I'm seriously considering sending that letter! 😉
I am looooving this finish right now. I just completed an Italian Style Buffet and this was my inspiration. There's something about the weathered, distressed, matte black that makes my heart swoon! 🙂 True. Love.
What's that you say?? You want to see the finished buffet??
Okay!
You'll just have to stop by tomorrow and see!
Have you painted anything black lately? 
Oh yeah! My Tiffany Blue Dresser was featured on Better After today!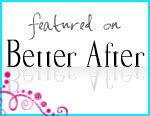 I LOOOVE Better After! Head over and check it out here!
XO,