This post brought to you by Honeywell International Inc.. All opinions are 100% mine.
I recently got this Honeywell Wi-Fi Smart Thermostat with Voice Control and I am OBSESSED! Who would have thought that I would love a thermostat this much?! But, you guys, this is awesome.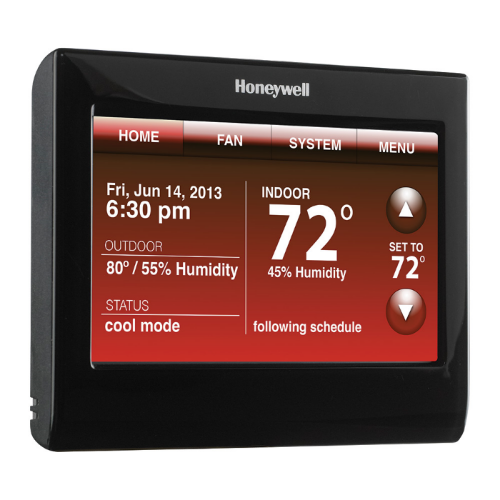 First, it has voice activated recognition and control, which I love. The Voice activated recognition and control allows the temperature setting to be adjusted in the home by talking to the thermostat and its touch screen. The Smart Response Thermostat learns your heating and cooling cycle times to deliver the right temperature, right when you want it. I told it to turn the temperature up and it recognized my voice, no problem! It listens better than my kids! *winks*
My husband installed it and it was very easy to install. It did not take much time at all and it has a very simple on screen set up. It also has a customizable color touchscreen, you can easily change the high-definition display to any color you chooseIts very customizable with the different colors of backgrounds. I love anything touchscreen, it just makes life easier.
This thermostat even has an app! Which means I can be laying in my bed at night and I can control the temperature in my home. I can even control it when I am away from my house. Well, that means my husband can control the temperature when he is away. He always thinks I have the temperature too low during the summer so now he can crank it back up to where he thinks it's "comfortable". haha!
The Honeywell Wi-Fi Smart Thermostat with Voice Control was named Best New Product of 2013
It definitely deserves that title because it truly is a great product! I really have loved this thermostat so far and I like I said my husband loves it even more which is always a win. This is our new favorite gadget in our home and we have found ourselves talking to many people about this great product.
The Thermostat can be purchased at Home Depot, Amazon.com and Best Buy. Better yet, how about we give one away to one lucky winner?! How cool is that? No pun intended.
All you have to do is comment on this post and tell us why YOU need one of these babies in your life! The giveaway will run for one week so enter now!