Hey friends! Welcome to our
Bake Craft Sew DECORATE series
! If you're new or haven't visited in a while, we will be having Christmas and Holiday
decorating ideas
here on
Classy Clutter
throughout the month of November! We will be teaming up with our blogging friends Cindy, Mique, and Leigh Anne! Cindy will be doing
sewing
ideas on
SkiptomyLou
, while Mique from
Thirty Handmade Days
, will be posting
craft
ideas, and Leigh Anne from
Homebased Mom
will be posting delicious edible gift recipes. We are excited about it so be sure to come back throughout the month for another Holiday decorating idea! This is our Thanksgiving Mantel.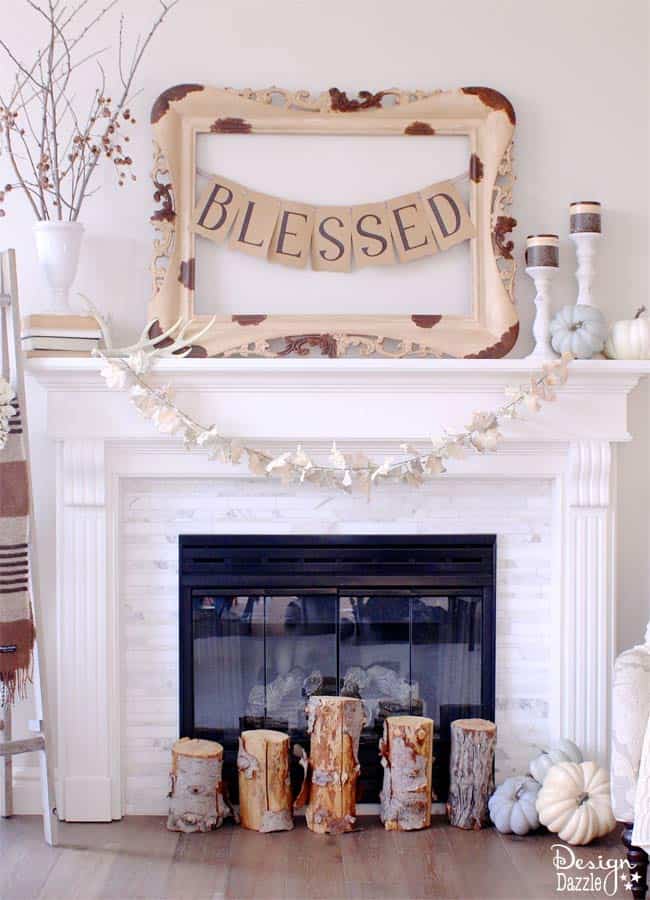 Hello!! My name is Toni and I blog at
Design Dazzle
. If you enjoy home remodels, decor, parties, holiday ideas and more, please come give me a visit. A BIG thank you to the cute girls Mallory and Savannah for having me this year. If you haven't met them in real life, they are beautiful and sweet and obviously VERY talented!!
So, I'm sharing with you all my Thanksgiving mantle "Blessed". It was pretty easy to change out the season and go from Fall to Thanksgiving with just a few tweaks. I feel so grateful and blessed for everything!! This blessed banner is a perfect way to describe my feelings all year round and is very appropriate for my home.
I do say this a lot, but I absolutely love this time of year! The end of the year is always so magical because of the many festivities and holidays. Home decor makes the holiday season that much more exciting. It creates a warm atmosphere that allows for the spirit of each holiday to thrive. But, it can be difficult to upkeep– and pretty expensive too.
My solution is simple– use what you already have. Have an open mind, a little creativity and look around outdoors and indoors to see you can use. You would be surprised what you can come up with! My dilemma was that I wanted a new arrangement for the Thanksgiving. I already had a Fall Mantle setting ready, but wanted to create more of a Thanksgiving theme. The tricky part of switching out my decor was that I didn't want to go spend more money on more decorations, neither did I really have the time to come up with something entirely new, since this is such a crazy time of the year for me. My image shown below – shows my Fall Mantle. As you can see, I just reused a few items, added a couple of things and created a new Thanksgiving mantle.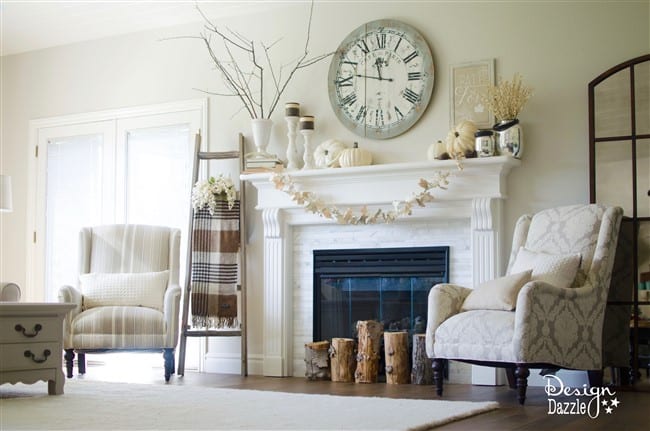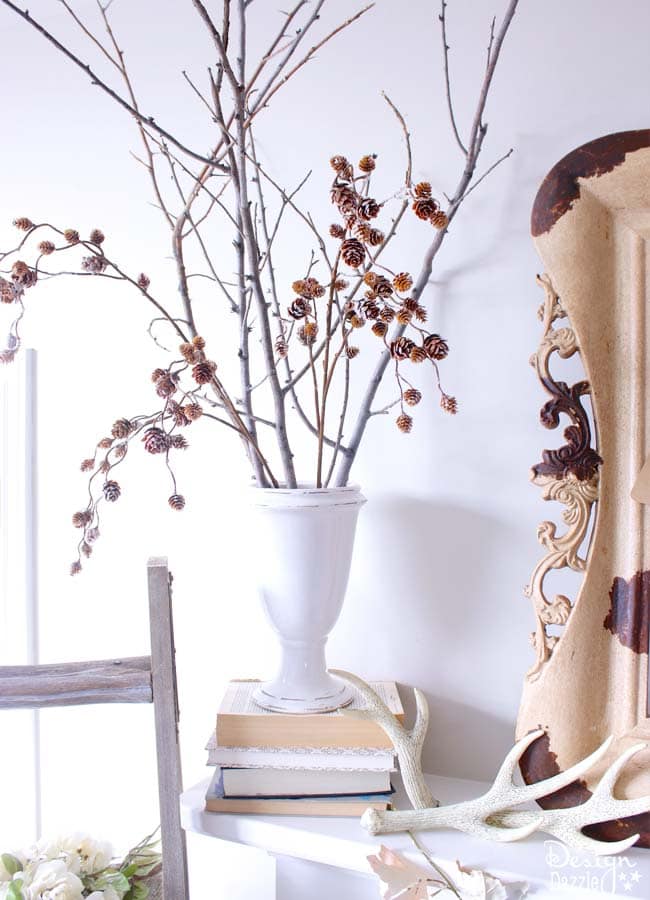 During the early autumn season, I created a simple, fall arrangement for my Mantel. This Mantel decor was up during the month of September, and later replaced for my Halloween decor in October. Now that it is November, it is time to get creative with the next holiday! In the end, I decided to reuse the books, leaf garland, deer antlers, candles/candlesticks, the pumpkins, and a vase of branches I gathered from around outside my house. The small pine cone branches came from the craft store.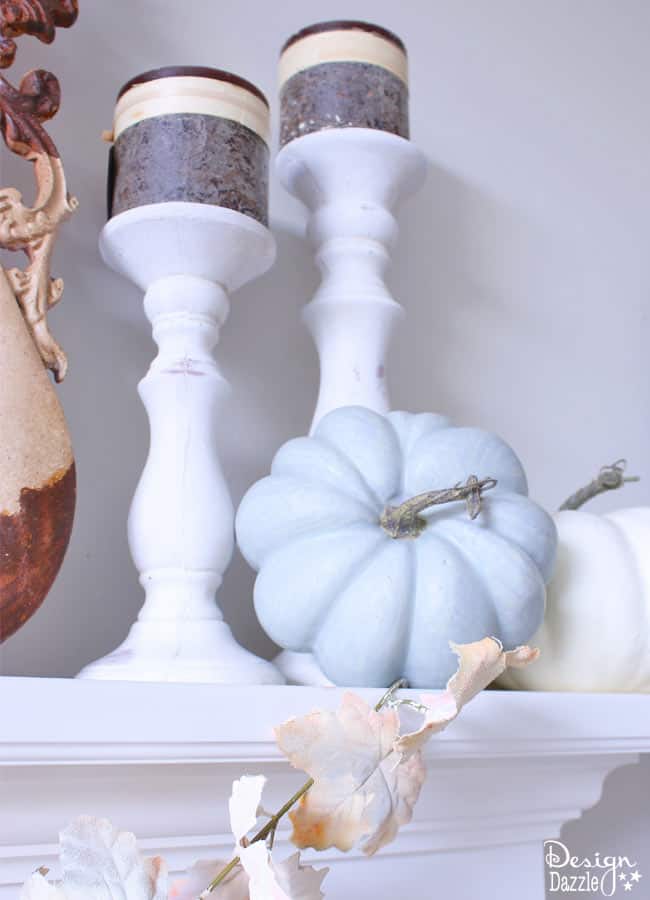 It's great to use the resources around your home! When it comes to decorating, my mottos is "shop your home." So, take a look around your home and see what you can use! Just let your imagination and creativity run wild!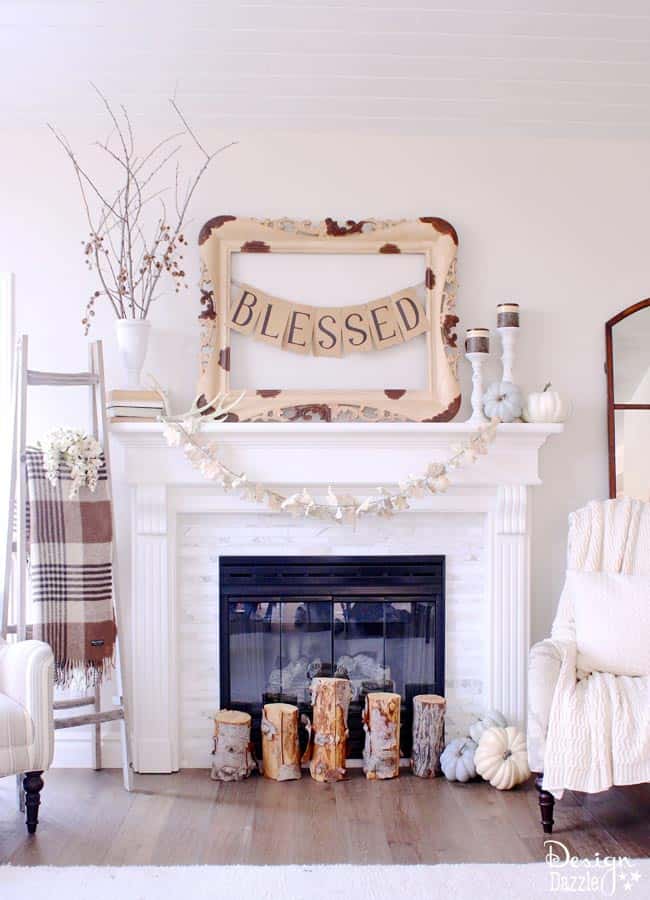 As you decorate, it is important to incorporate different textures. For my living room setting, I used two different blankets that each had different textures that complimented my mantle decorations. One blanket is a nice, neutral-colored wool with fringe on the end. The other blanket is a cream-colored cable knit. Both blankets help create a warm, inviting atmosphere. I brought logs in from the back yard to use for my mantlescape.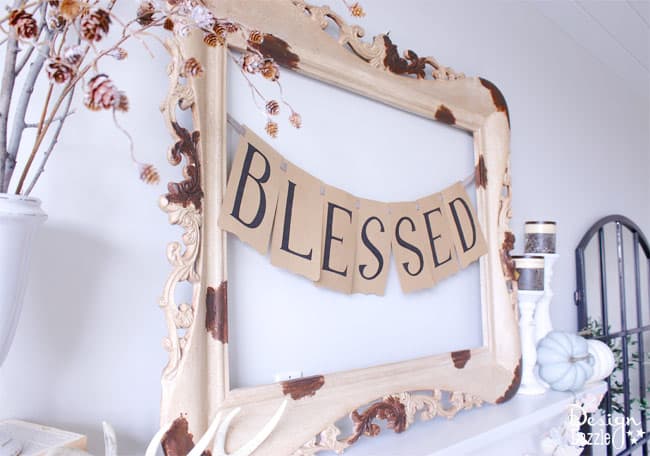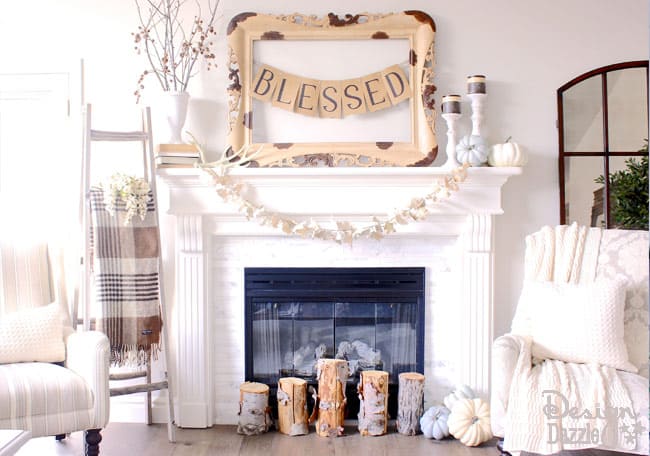 It took about 30-40 minutes to create this Mantel (including assembling the banner).
More ideas from me…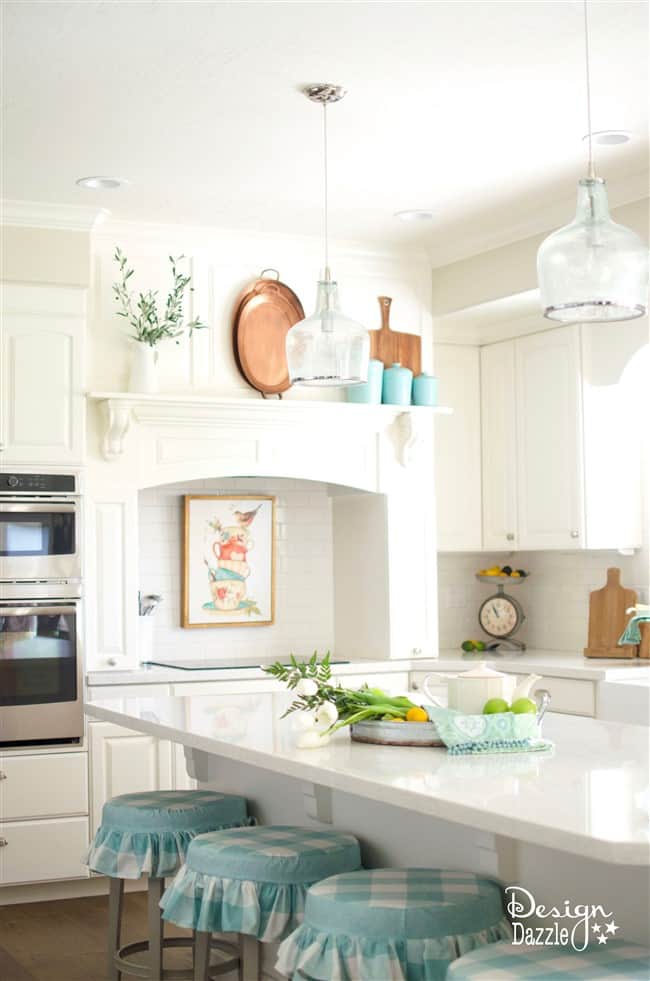 Check out my
entire kitchen remodel
. You'll be surprised by the before and afters! If you need creative storage solutions, I've got you covered. I LOVE my kitchen! It's organized and great to cook in.
Another love is the holidays! Check out my Michaels Makers
Christmas Tree
! The theme is Mrs Claus Cottage Christmas tree : ) I decided to hand paint fabric to create a cottage ribbon. It's my favorite tree to date!
I'm really excited to introduce my eBook…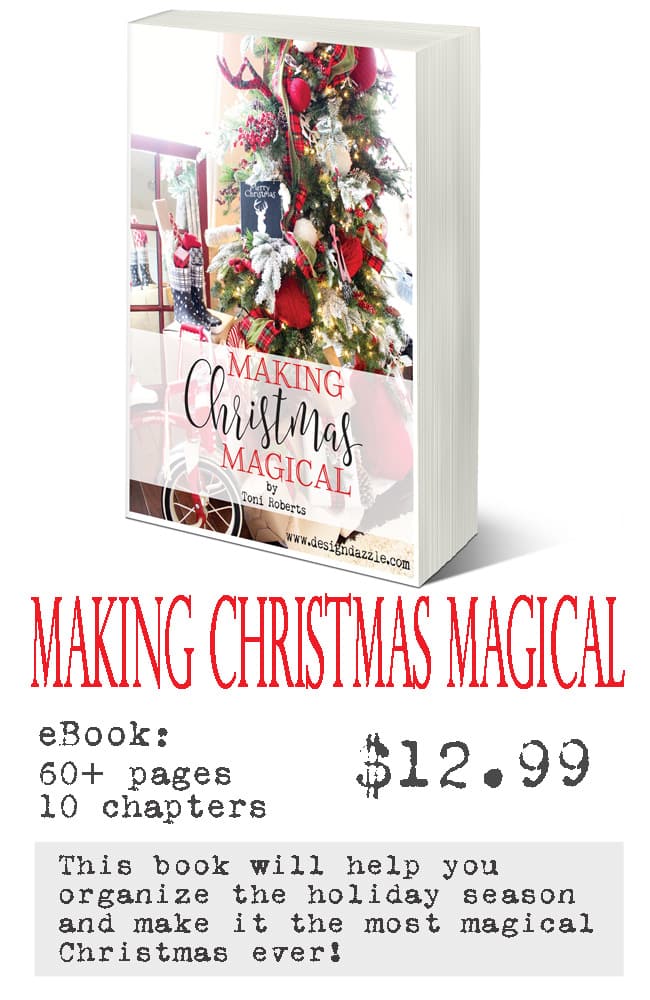 If you need help with Christmas and want to make it magical, check out my eBook, "Making Christmas Magical"
"Making Christmas Magical" will help you create the joy, wonder and magic of Christmas.
How-to decorate a Christmas tree, holiday traditions, edible gifts, organizing before Christmas and more.
It's an eBook on how-to have the best Christmas ever!
Save
Save
Save
Save