Category Archives:
Fall
September 22nd is officially the first day of Fall!!! YAY! Fall is by far my favorite season! I really love everything about it. Especially the weather and the food! Apple Cider, Pumpkin everything, steamy soups, oh my! The temps have dropped and we are loving the gorgeous Fall weather in New York! I thought it'd be fun to round up some really cute Fall decor ideas! Here are some of my faves!
My Fall Mantel Display from 2012 Fall season
Fall Monogram Wreath from Two Twenty One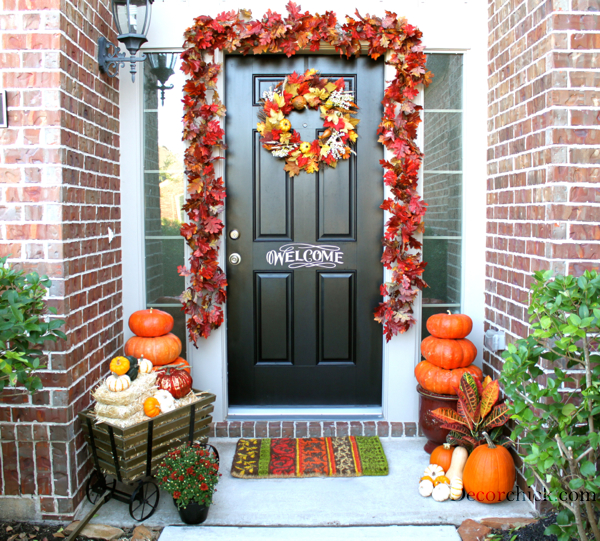 Fall Front Porch makeover from DecorChick
My $5 Burlap Fall Wreath
Pinecone Fall Wreath from V & Co.
Fall Wreath update from Homey Home Design
Pottery Barn inspired Fall decor from Live Laugh Rowe
Amazing Fall front porch from Liz Marie Blog
5 minute Fall Garland from Making Home Base
Free Fall Printables from Two Twenty One
Has Fall arrived where you live?
Check out these DIY Fall Wreath Ideas too!
---
Today I'm going to re-share a tutorial I posted a few years ago for my Burlap Halloween wreath. I used my own tutorial and created a Fall version. I thought I'd include the tutorial for those that may have missed it!
Burlap is SUPER cheap! I got 1 yard of burlap at Joann's for around $2 using a coupon. I also got the Fall ribbon from Joann's. The "N" and other fall embellishments I had on hand.
1. I unwound the hook of a wire hanger so it was one long wire.
2. I formed it into a circle shape.
3. Cut my burlap into 3″ strips. I used exactly 1 yard of burlap. You could use up to two yards for a more tightly folded look.
4. I folded the strips back and forth as I threaded it through the wire. Super easy.
5. Once I had a full-looking wreath, I spaced out the fabric and secured it in random places, using hot glue, to the wire hanger so it didn't slide around.
6. Finally, I rewound the wire to close the hanger. I ended up keeping the hook part of the hanger so I could hang the wreath from it on my door.
7. Made a quick bow and used wire to secure it in place.
8. Finally, I added the gold (spray painted) "N" and a few Fall embellishments to dress it up a bit. The "N" and the Fall foliage were originally from Hobby Lobby but I had them on hand.
Start to finish you're looking at about a 30-45 minute project for under $5! Can't beat that! No excuses for a wreath-less door this season!
---